ETEK Tuning -
Big Brake Kits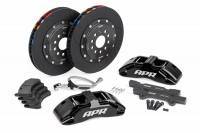 Big brake systems are designed to stop your car more efficiently and consistently. Larger calipers, vented discs, and exotic-compound pads increase heat capacity and heat dissipation, causing these upgraded braking systems to perform well under extreme temperatures.
Browse Big Brake Kits
Products
Disc Brake Upgrade Kit
Description:
Large Six-Piston; Billet-Aluminum Calipers Designed; Engineered; And Manufactured In South Africa Stainless Steel Braided-Teflon Brake Lines Proprietary High Performance Street Pads Lighter...
More Details »
Available Only While Supplies Last
Direct Ship (shipping times may vary)
Direct Ship (shipping times may vary)